You know life ain't easy. It takes work. Takes healin' cause you're gonna get hurt.
Lose your faith. Lose your shirt. Lose your way sometime.
Ah, you really never have control. Sometimes you just got to let it go.
And when the final line unfolds, it don't always rhyme.
Homeless from The Dark.

February 26, 2012. After a very long hiatus, I have revamped the site a little. I miss the days of being on an insider track for Guy's activity and the singer/songwriter scene in general. The internet has morphed and changed so much since the early days. I have a pretty good idea what Guy would say about the mess of social media. Speaking for myself, it has nothin' to do with writing songs.

There is a lot happening for Guy these days, with a two disc tribute album getting lots of attention. (This One's For Him). Guy will be 70 in 2012 and still has a number of dates this year. I wonder how it works that you can stream Guy's entire catalog here.

For these new changes, I finally implemented css across most pages and modernized the color and font scheme. Back in the old days, readability was better with dark backgrounds and light text. Improvements in monitors reversed that trend and what is old is new again. I finally added a new picture that is much larger than the old one from the Cold Dog Soup promo materials. March 2008. It's been nearly ten years since I created this site to help inform the world about Guy Clark. The content put together in web format (like lyrics, scans, and liner notes), have spread all over. To create this site to honor an American original was necessary in 1999. There is so much useful information here that I hope you spend a little time to check it out.

I even moved to Tennessee on my own musical journey, ever inspired by folks like Guy. Then I moved back.

November 12, 2003. Drove over the Sierras to Chico, CA, and saw Guy and Verlon play at the Sierra Nevada brewery. It was a great show and the crowd was into it. Took some notes about keys and capo positions. Played Guy's guitar for a real brief period after the show. The 'craftsman' sure customizes his guitars. Of note was a compensated nut(!), as well as handmade brass compensated brige poles. The action was a little high, but I think that's how he likes it. I wish I had taken some photos. Guy was somewhat aloof and Verlon was especially personable. It had been two years since the last show, so it was great to see them live.

November 7, 2003: If you have found the new site, welcome! Mr. Oudet has generously offered this space. Thank you! Hopefully this page can live here safely for some time to come. I still own www.guyclark.net if I can ever afford to have it hosted.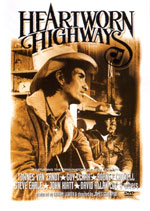 October 22, 2003. The Heartworn Highways DVD has been out for about a month now. This may be the best thing that will happen to fans of this music all year. It is loaded with a ton of extras that look and sound better than the movie itself. UNREAL! The footage of Guy, Steve, Rodney and Townes inspires me every time I watch it! Guy's extra tracks are Desperados Waiting for a Train, The Ballad Of Captain Flint and Laverne, Country Morning Music, and sings on Stay All Night, Stay a Little Longer.
For a short while, I'm posting the audio-only to one of the extra tracks (Country Morning Music) in severely degraded quality. Download the 1.6meg zip file by clicking here. Guy and Rodney discuss how much they love this song by Keith Sykes, and that they are going to record it for either Rodney's or Guy's first albums. Even though they never got around to it, their praise of the song speaks for itself.
If you visit this site and don't own this DVD or DVD player, it's time to take the plunge. Go buy it! For purchase, I always reccommend Village Records, but you can also get a copy at Amazon.com.
The DVD somewhat nullifies my guide, but here's the link anyway. I hope to add info about the extra tracks as well.
September 16, 2003. New site address. Things didn't go as I had hoped, but the site lives on. Even though there is a .com site for Guy, this site still serves a purpose. Plus there is someone behind the wheel here (most of the time :).
March 27, 2003: Waylon Jennings Tribute coming April 15. Guy is performing Good Hearted Woman -- boy, that will be great! Miss you Waylon. . .


January 20, 2003: Happy new year! Thanks to all of those who have dontated for the site - I have broken even with domain registration.
Go BUY The Dark T-shirt from Will.
---
August 24, 2002: Songbuilder is being reprinted! Village Records will be the American distibutor. The books will be printed in the U.K. within two weeks, so near the end of September go get them from Bill!

July 4, 2002: Guy has finished a new album!
Entitled The Dark, it is to be released on September 17th on Sugar Hill records. I have heard that it will be available at Guy's shows starting August 10. Please see the album page for track listing, cool album art, and lyrics. Also, The Rookie (starring Dennis Quaid) has Stuff That Works on the soundtrack. I think this is the first time a Guy Clark song has appeared in a film soundtrack.

November/December 2001: I've filled in a lot of content to the site. Here's the additions:
Nice big scans of Texas Cookin', the very detailed liner notes, plus a little picture from the album sleeve.
Larger scans for Old Friends and Dublin Blues.
Liner notes and sleeve photo for Better Days.
Liner notes to Boats to Build, and Guy Clark.
A picture of us at Carson City. The photo was Lora's idea; I wasn't really comfortable with it.
Photos a concert-goer sent to me. Check them out
Photos from Lyle Lovett's 1998 cd.
An Austin City Limits episide page. Please let me know if you have more information for it (or suggestions--it's kinda bulky).
Working a new section - "Old Friends" which includes Guys music-business buddies, a "Writing with others," and possibly a "Performing with others" section.
Eventually there will be a miscellaneous lyric page, capturing all those tunes that are on other folks' albums.
Did you know that sound samples for all but the newest Guy Clark album are available at Amazon.com?
Guy live on KPIG. Go to KPIG, then to archives, and look for the show Please Stand By
There is an NPR interview with Steve Earle and Guy that aired on October 6, 2001. They played a cool version of Townes' Lungs/
10/28/01: I saw Guy in Carson City NV. What a great show. My favorite surprise: Lone Star Hotel. I thought this was one that "got away from him." There was one new song, cowritten with Shawn Camp (same fella as with Sis Draper), called Soldier's Joy, a rather dark tune about a Civil War era amputee.

Guy is playing a new Martin these days, an 00028VS. Sounded great to me. I have finally gotten over the shock factor and have been able to focus on Guy's playing. Hopefully I can get around to tabbing up the songs I took mental notes on - That Old TIme Feeling, Baton Rouge, Out In The Parking Lot, and Lone Star Hotel.

9/22/01: New article on Guy, in preparation for some Canadian dates.


8/28/01: Koch progressive to release live album with Steve Earle, Townes Van Zandt & Guy Clark on October 9, 2001.
Also, the Townes Van Zandt tribute starts with a new version of Guy's To Live Is To Fly.

8/2/01: www.guyclark.com is now owned by Guy's manager Keith Case. We should be getting a site going there soon.

8/2/01: The next "Live At The Bluebird Cafe" will be released in October, and according to the label, will be a "cooperative effort with Guy, Steve Earle, and the late Townes Van Zandt."
| | |
| --- | --- |
| | 4/10/01: Live Guy Clark track available! It's a great CD altogether. The GC track is Cold Dog Soup, w/ Verlon Thompson from 12/3/99 in Torrance, CA. The CD is on Vanguard Records |

4/10/01: There is a Townes Van Zandt tribute album out called Poet: A Tribute to Townes Van Zandt. Check it out.

2/24/01: A few of you have emailed me with link updates, so thank you. If you come across any Guy Clark interenet content, please let me know. I'll check if I have it, and if not, you will have just helped me out!
---
4/22/00: I got to the alphabetical listing for lyrics. This will also serve to link to the TABs and chords as they become available. Enjoy!

2/8/00: I recorded the Prarie Home Companion show (1/15) songs to mp3. They are are Sis Draper, Ain't No Trouble To Me, and Homegrown Tomatoes. I don't know how to share these just yet, but please contact me if you're interested.
---
10/26/99: NEW ALBUM! Cold Dog Soup is released. Guy writes 1, co-writes 8, and the remaining 3 are great, too!

10/24/99: Just got back from Nasvhville, where I saw Guy at the Douglas Corner Cafe. What a great show! For the record, it was serendipity that I was in Missouri for work when I found out about the show! I should write some notes up about it soon

7/30/99: Saw Guy and Verlon play at The Palms in Davis. Introduced myself to them backstage. A very cool show.

5/24/99: Thanks to Colin Walton for delivering the rest of the Dublin Blues lyrics, plus some rare Liner Notes.

5/13/99: Topher delivered all of the old files. I've incorporated a bunch of it already. There is some great stuff here, but I've got a lot left to sort out.

5/4/99: Heard from topher about the old site, so soon I may be able to incorporate all that came before! This will be great.

4/28/99: CJ Wells has typed in lyrics for Texas Cookin', and completed the liner notes for Old No. 1. Thanks CJ!

4/12/99: Check out my Heartworn Highways - Guide to fast-forwarding. An essential tool for this video every Guy Clark (and Townes) fan should have.

4/6/99: Chip Taylor's new CD released in America, called Seven Days in May, and Guy sings a verse on One Hell of a Guy - how fitting. This is a brand new CD for me, but I like it a lot already.

4/1/99: This website went online! But what happened to the old website? Find out here.
---

12/1/98: A new tribute CD has been released, called Pearls in the Snow - The Songs of Kinky Friedman, and Guy plays A Wild Man from Borneo. I haven't heard this yet, so let me know if you have.


9/22/98: Lyle Lovett titles his new album after Guy's song Step Inside This House. Thanks to Lyle for such a great CD and for turning me on to many of these great songwriters.

9/21/98: Guy Clark wins ASCAP's Lifetime Achievement Award. Congratulations!

9/15/98: I bought my first Guy Clark CD (no kidding!) Life's been better ever since.