TOM HOUSE
Court Street Press • Montgomery, Alabama
"The World According to Whiskey is a scary work of genius" —Lee Smith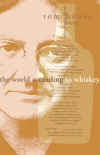 "DEVIL'S MUSIC" BY GREIL MARCUS, FROM ESQUIRE, DECEMBER 1998
"In times of uncertainty, Americans are drawn to the belief that truth and beauty come right out of the ground, like a mountain spring or a bug. "Americans, having the most complex civilization the world has seen," Raymond Chandler once wrote, "still like to think of themselves as plain people. In other words they like to think the comicstrip artist is a better draftsman than Leonardo." But run this strain of plain-folks populism through people who aren't so plain-singers, say - and it comes out as a wish for purity: a wish to be clean, clean as dirt."
Read the full article here
Tom House is a Nashville-based poet and singer-songwriter who has received worldwide attention for his unique recordings and performances. An independent cassette—Inside These Walls—and CD's on the Checkered Past label—The Neighborhood is Changing andThis White Man's Burden—received critical acclaim and have placed him securely in the new fringe genre "Americana." Newer releases on Catamount Records— 'Til You've Seen Mine, Jesus Doesn't Live Here Anymore, and Long Time Home From Here—continue to receive praise and acknowledgement. Tom also serves as the long-time driving spirit behind the Working Stiffs Jambouree, a Nashville institution that features eclectic, non-mainstream talent.
Tom has had over 400 poems published nationally and internationally; his poems have been translated into Italian, German, French, and Japanese. Earliest publications include the Southern Poetry Review, the Duke Archive, and the St. Andrew's Review. Later work found its place with Road House Press and magazines like Bogg, nausea, and Poetry Motel. In 1996, The Tennessee Bi-Centennial Anthology feautured three of Tom's poems.
WHAT THEY SAY ABOUT TOM HOUSE
"The World According to Whiskey is a scary work of genius. These rough, beautiful, and totally original poems bear witness to the underbelly of a culture with no room for the disenfranchised---the poor, the weird, the broke. Tom House has captured the dark side of the Sun Belt in unforgettable language that will keep coming back to haunt you. Here is a fiercely original, uncompromising voice from way down under, demanding and deserving to be heard." —— Lee Smith. author of Fair and Tender Ladies and The Last Girls
"Tom House's music is primitive and accousticbased. Equally entrancing are [his] poetic lyrics. House tells tales of life in today's American South, but these stories everyone else has seemed to miss." –– Austin Chronicle
"Tom House is a drinking man's poet who happens also to be a fine songwriter, and knows the difference. This means neither that he is a drunk, nor a fifthgeneration caricature of Bukowski; he works far too hard to be either of those. It does mean that he speaks with rough eloquence and sure knowledge of lives lived outside the pampered middle class." –– Grant Alden, co-editor, No Depression magazine "Tom House's poems carry the tradition of the Troubadour into bars, motels, fundamentalist pulpits, and back yards of the New South. No image of his generation fails to be illuminated by the summer lightning of his intelligence. His work shows how it is possible to heal the divorce that sundered poetry and music at the dawn of modernity." –– David Rigsbee, poet, editor of Invited Guest: An Anthology of Twentieth-Century Southern Poetry
"David Olney, Iris DeMent, Paul Kopasz, Steve Earle, and Tom House are amerika's best new outsider songwriters. Songwriter poet prophet of the apocalypse. Tom House is the exception to every rule. His ancient bard voice rises up groaning wailing moaning from the deep bruised purpled heart of the human race. His fearlessly honest poems at 3:00am come keening through the attic walls. Tom House cracks consciousness. Read The World According to Whiskey. Sit up. Listen. Only by going through the pain and suffering of darkness can salvation occur. Let Tom House be your guide." –– Ron Whitehead, poet, teacher, festival organizer