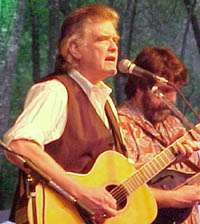 The photo at the right was taken by Clay Roach at Spring Fest in Live Oak, FL, March 24-25, 2001. Clay was kind enough to share these photos with us. Click for more photos from this show.

Here are some previously unlinked photos from Blue Highways Festival, March 18th 2000.

When I went to the Bluebird Cafe in 1999, I was stunned by Jim McGuire's photo display on the wall. Now, you can catch a glimpse too. Click here for a direct link to Guy's photo.

Steven Fromholz put has a web page! In his scrapbook, there's some photos of Guy.

Lyle Lovett's CD release party (from Vince Bell's site, complete with description).

Lyle Lovett's album Step Inside This House has some nice photos of him and Guy.


1998 Kate Wolf Memorial Music Festival: One, and Two
Ray Wylie Hubbard Photo Album - Ray and friends
A Boy Meets Guy Clark
Guy and friends at MerleFest 1997
At Mac's Backroom Bar, McGrory's Culdaff, Inishowen, Co. Donegal, Republic of Ireland

Guy with Eric Taylor. May 15, 1998, London. I am really bummed that this site is no longer up. Maybe it will come back some day.