| | |
| --- | --- |
| Richard Bicknell biography | The Atlanta Journal-Constitution's Doug Hamilton says Richard Bicknell's latest album, Mayflower, "juxtaposes Bicknell's evocative originals with swell versions of songs by Steve Forbert, Townes Van Zandt and others." His colleague Richard L. Eldredge's B+ review said, "Four years in the making, this second solo project from Atlanta singer-songwriter Richard Bicknell was well worth the wait. Mayflower finds Bicknell, the former frontman of the Lost Angels, in a wildly adventurous mood. He chooses his material wisely, combining his beautifully crafted roots-rock originals with covers of songs by musical heroes: Robin and Linda Williams, David Olney, Eric Taylor and others." |
Bicknell's two albums, Mayflower and Sometimes Blue, combine Bicknell's songs with ones by some of America's most talented songwriters. Bicknell's brand of folk-rock draws from the work of such Texas singer-songwriters as Van Zandt, Taylor and Nanci Griffith. Some of the songwriters whose writing he admires worked with him in the production of the album, including Olney, Taylor, and Robin and Linda Williams on their songs. In addition, singer Katy Moffatt joined Bicknell on Steve Forbert's "When the Sun Shines."

While Bicknell often performs the work of the writers he admires, the heart of his music is his own songwriting, often with band members Scott Patton, who performs on guitar, keyboard and vocals, and Steve Boyes, guitar and vocals.

Bicknell's first album, Sometimes Blue, was released in 1994 and received airplay on adult album alternative stations throughout the country. Reviews of Sometimes Blue included, "With just a hint of a twang, Bicknell sings about things that matter. Imagine taking a ride in a big convertible in some wide-open place."

Over the past 10 years, Bicknell has performed at Center Stage Theatre, Cotton Club, Eddie's Attic, The Freight Room, Smith's Olde Bar, The Point, The Roxy and Variety Playhouse in Atlanta. He has also performed throughout the Southeast, including at Nashville's legendary Bluebird Café. He has been the opening act for artists ranging from Elton John to Emmylou Harris. He's also opened for Luka Bloom, Peter Case, Don Dixon, Robert Earl Keen, David Olney, Katy Moffatt, Kelly Willis, Lucinda Williams, Robin and Linda Williams and Victoria Williams.

One of six children of an Army major, Bicknell was born in Germany and grew up in New York, Hawaii and Georgia. He studied painting at the Atlanta College of Art, and his musical education was enhanced by a stint in Washington, D.C., as country, folk and bluegrass buyer for Tower Records. He returned to Atlanta in the late 1980s and began the Lost Angels, a band that combined rock with traditional elements such as accordion and fiddle. In the early 1990s, Bicknell began working with Geno Montgomery and Exocet studios to record Sometimes Blue and formed a new band with studio musicians Steve Boyes, Scott Patton and Sean O'Rourke.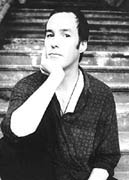 Back to Richard' page