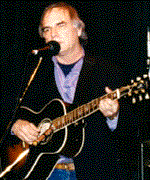 Richard Bicknell covers two songs by David Olney : Roses, on Sometimes Blue; and Barrymore Remembers, as a duet with David, on Mayflower. They will perform "Lazlo" on Bicknell's new album, tentatively entitled "Baby Lightning"
Here is David Olney's opinion about Richard Bicknell:
"There is a kind of fearlessness in Richard Bicknell both as an artist and as a person. As an artist he is willing to take chances, to tackle any song on any subject in any style. His own compositions are personal without being self-absorbed. His interpretations of other people's songs are true to the original versions without being imitative.
He is never afraid to let a song take him into uncharted territory. In "Jane Eyre's Coat", Richard sings, "Life is sad and I can't dodge her any more..."
As a person and as an artist, Richard dodges nothing. He meets life head on. I am proud he is my friend"
David Olney, Nashville, 11/16/2000